Clinical Radiation Oncology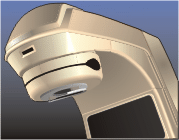 For radiation oncology, the facility includes:
Eight Varian linear accelerators, including three TrueBeam® Systems.
one MagnetTx Aurora™ Linac_MR unit, being installed 2017.
one Pantak orthovoltage x-ray machine,
two CT-simulator, Varian Eclipse® treatment planning and Varian ARIA RO and Varian ARIA MO for patient management.
The brachytherapy program includes one MicroSelectron HDR unit, two Nucletron PDR Units, the Nucletron Oncentra® brachytherapy treatment planning system, and the Varian Variseed® treatment planning system.