About
Mission Statement
Department of Medical Physics, Cross Cancer Institute,
Alberta Health Services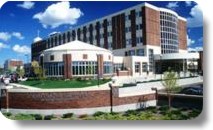 The mission of Alberta Health Services is to provide a patient-focused, quality health system that is accessible and sustainable for all Albertans. The Medical Physics Department at the Cross Cancer Institute supports this mission through its commitment to excellence in providing scientific and technical support for the clinical, teaching, and research activities of the Institute's treatment and diagnostic services; and leadership in the application of physics and engineering principles to cancer care.
Principal Functions
The Medical Physics Department at the Cross Cancer Institute is inspired, empowered and guided by the Alberta Health Services five values of Compassion, Accountability, Respect, Excellence and Safety. In particular, the Medical Physics Department provides:
Dosimetric calibration services and quality control programs for all clinical ionizing radiation emitting devices within the Institute. This includes equipment used by the Departments of Radiation Oncology and Cancer Imaging, and may include equipment used by other clinical groups.
A clinical physics consultation service for the Departments of Radiation Oncology and Cancer Imaging.
Specialized physics services for patients undergoing radiation therapy, which includes the provision and ongoing development of state-of-the-art treatment planning and mould room services.
A radiation safety programme to ensure that all ionizing radiation emitting devices and sources used in the Institute are operated and/or handled in compliance with Federal and Provincial laws, regulations, and guidelines; and that radiation exposure to staff, patients, and visitors is kept as low as reasonably achievable.
Support for the development and maintenance of an Institute-wide computer network for the distribution and utilization of medical images and dosimetry data.
Assistance in the selection, installation, commissioning, acceptance testing, maintenance and quality control of high technology equipment within the Institute.
Technical facilities and resource personnel to support specific clinical and research programmes within the Institute.
A clinically motivated research and development programme, which includes the supervision of graduate students.
Teaching and training for physicists, technologists, therapists, and residents.